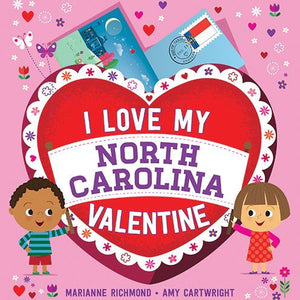 Based on Marianne Richmond's bestselling book I Love You So..., I Love My North Carolina Valentine celebrates a parent's love for their child by comparing their love to the many special parts of North Carolina. This Valentine's day board book is perfect for those looking for a way to say, "My Valentine, I Love YOU," in a unique format!
This sweet North Carolina book will help you put into words the often indescribable quality of boundless, steady and unconditional love you feel for your little one as you travel around your home state and visit familiar landmarks, like:
Charlotte
Greensboro
North Carolina Zoo
Atlantic Ocean
Fayetteville
Lake Norman
Pullen Park
Raliegh
It's Valentine's Day in North Carolina,
and I just want to say
that I love you SO MUCH,
and in SO MANY ways!
I Love My North Carolina Valentine is the perfect way to share your love with a treasured child this Valentine's Day!