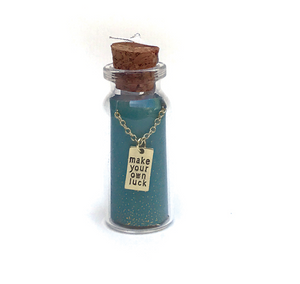 A sweet update to a fan favorite! This lovely sterling silver plated necklace inspires you to "Make Your Own Luck" and comes in a whimsical glass bottle. This simple statement necklace is a powerful way to keep your mantra close to your heart. Not to mention it's right on-trend!
- 16-18" adjustable chain
- gold necklace
- gold dipped
- product code: r-mbn-luck
Message in a Bottle Necklaces are a fan favorite here at Lucky Feather! Simple, yet powerful messages are complimented by dainty charms that look magical in a sweet glass bottle. Whether you're treating yourself or a friend, Message in a Bottle necklaces make a perfect gift. Empowerment and style; that's what we're all about!