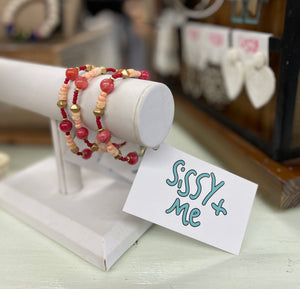 Another new bracelet  from Sissy +Me! Roses are red & pink!! This bracelet features red and pink colors, as well as corals, to create a lovely fall bracelet finished off with gold finishes.
- stretch cord with clasp. 
From Sissy + Me: 
"Hey there! Thank you for supporting Sissy + Me, Our small sibling and Partnership. We are learning by doing: focusing on goalsetting and giving back to our community through organizations like My Life Matters and Life Choices of Roxboro. We had the idea for these bracelets by doing something we both love: creating and giving! We hope this bracelet brings a little joy into your day, knowing you are giving back, and receiving awesome jewelry!"


Love, 
Georgia & Philip 
- each bracelet comes with story card.