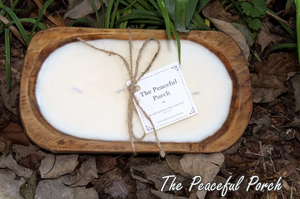 Handmade in Alabama by our very special friends at the Peaceful Porch. You will love the variety of scents in their amazing collection! 
Our one of a kind mini dough bowl candles are made with the finest vegan, organic, soy wax and premier wicks to give you the best and longest burn time possible. Also, you can order refill kits to have a brand new candle to burn! 

All bowls are different and sizes vary. Our average mini dough bowl is 9 inches by 5 inches. 
Burn time: 35-40 hours on average